By Faith Chatham - DFWRCC - Oct. 21, 2007
Photos used by permission of Tom Blackwell
Flags mark the route of the proposed toll road in Trinity Park, Dallas. Voters will decide whether they want the toll road through the park.
A YES VOTE means that NO TOLL ROAD IS WANTED IN THE PARK.
A NO VOTE means that you WANT THE TOLL ROAD THROUGH THE PARK.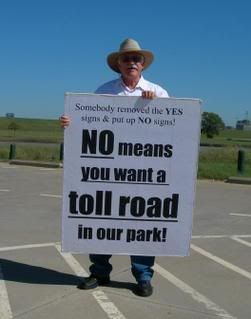 Below is a picture of the park where the proposed Trinity Toll Road is planned. Opponents (urging voters to vote YES) say too much land will be taken out of the park. The Toll Road will be high speed, without access to the park.